2018-11-10, 09:55 AM (This post was last modified: 2018-11-10, 10:01 AM by FlameFilosi4.)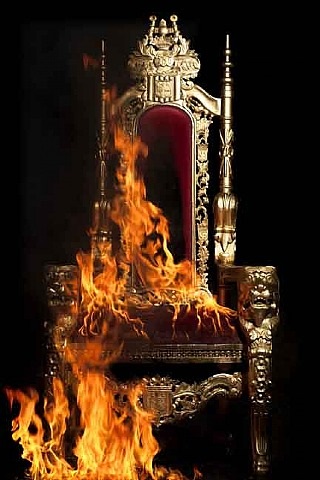 A throne in Flames - Game #17 8pm
The critics had already predicted their demise at the beginning of the season. An Aging lineup without it's #1 goalie was a  failure waiting to happen. And after a 4-8-1 start the axe fell on former assistant Stevens and his staff. Waiting in the wings was one Wilbrod Desjardins,  fondly known as Willie the Wanker from his days being fired as coach by Vancouver.
So now sporting a 5-9-1 record, having beat Anaheim  and losing to the Wild 3-1, Willie's boys are set to face the Flames on what surprisingly is the late game on Hockey Night in Ontario. They have $424K in cap space, with $5.8 mil goalie Quick on LTI, they have Budaj and Campbell as goaltenders. They are paying Kopitar 10 mil and Kovalchuk 6.25 mil, Doughty 7 mil this year and 11 mil hereafter. So there's not a lot of room to add to this collection of "veterans".
The Flames come in with the following lineup (from yesterday's practice) and plan to put Rittich in goal:
@Fan960Wills
lines and pairings at practice:

Gaudreau-Monahan-Lindholm
Tkachuk-Backlund-Neal
Bennett-Ryan-Frolik
Hathaway-Jankowski-Czarnik
Peluso

Giordano-Brodie
Hanifin-Hamonic
Valimaki-Andersson
Prout-Stone

Rittich
Smith
Dube remains on IR so Czarnik gets inserted again. Looks like Peluso sits. The strength of this team is their heavy forecheck and constant pressure. That combined with a tight team defence should be a recipe for success,....IF they get good goaltending. That is essential to their success and has been missing from their game with Smith in goal. Hopefully with Rittich there they will feel confident in their game and produce on ice. Do it!
Go Flames GO!
{go down in Flames, LA!}
That 9th goal really took the wind out of our sails. - J. Tortorella, Columbus