http://www.tsn.ca/jvr-is-an-intriguing-t...e-1.636854
For as long as the Leafs' youthful core shows that it can play – and play well – against NHL competition, trade winds blowing around some of Toronto's more veteran names will continue to swirl.
That's just business in the National Hockey League, and both Mike Babcock and long-time Leafs winger
James van Riemsdyk
said as much to the media a couple of weeks ago. At the time, the Leafs' head coach dismissed the trade rumours as mere speculation, and maybe that's the truth.
But, allow me to posit four few key points on his trade candidacy:
One, the Leafs are grading out surprisingly well on the player development curve – especially in the forward ranks. If there was a real area of need for this team, it would be on the blueline. One would guess that some theoretical surplus-forward-for-defenceman swap would bode well for the Leafs long-term.
Two, the Leafs aren't yet in a position where they might feel enough external pressure to preserve as much talent as they currently have on the roster in a quest for a playoff bid. That's kind of the beauty of a rebuild when you commit to it – expectations are immediately tempered for a couple of years, and anything over and above a reasonably competitive season is considered a success by a fan base.
Three, van Riemsdyk's six-year contract ends in 2017-18. The Leafs aren't under the gun to consider the 'trade him or lose him for nothing' scenario that haunts most teams with valuable assets as their contract approaches expiry. But, they aren't far off from that scenario either. If they choose to extend van Riemsdyk, well, then you enter the dicey conversation about how much and for how long you go with a player who will be 29 with plenty of miles on his body.
The fourth one point is subtle, but just as important: van Riemsdyk's fallen out of favour a bit with the Leafs over the last couple of years. Considering how productive he's been as a scorer (on some truly terrible teams, it must be pointed out), I don't think this is as much about JVR's demise as much as it is the progression and development of all of their young forwards.
Maybe Babcock has a great reason for it, but he's really throttled off his usage of van Riemsdyk since he took over as bench boss in 2015-16. His numbers in Toronto are pretty staggering when you consider them: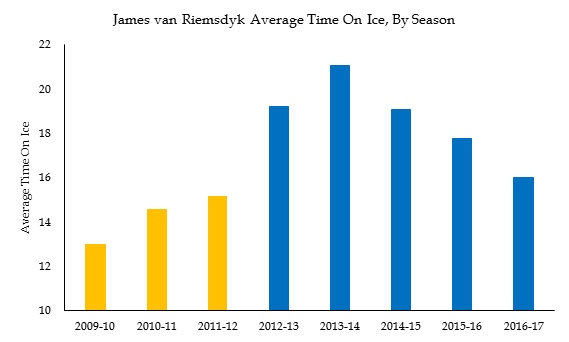 Van Riemsdyk hit his peak ice time during the Randy Carlyle era, a run of more than 100 games where he was consistently playing 20 minutes a night. The 2013-14 season alone saw him playing more than 21 minutes a night, which is a pretty ridiculous workload for any attacker in the modern era of hockey.
Contrast that against the Mike Babcock era, and particularly this season. Van Riemsdyk is averaging just about 16 minutes a night, about a 24 per cent reduction from his career-high back in 2013-14.
Now, you can comfortably and rightfully argue that Babcock simply has more weapons in his arsenal, and he's doing what he always does – smoothing ice-time, rolling four lines, and making sure each and every shift is shielded from the fatigue that top-heavy teams seem to endure. I'd agree that, at a macro-level, it seems to be a very real strategy.
The counterpoint here though is that Babcock has sliced into JVR's ice time more than he has other players. There is a laundry list of attackers who are getting more ice time per game than him right now, and not every skater is definitively more talented. The list: Auston Mathews, Mitch Marner,
Leo Komarov
,
Zach Hyman
,
Tyler Bozak
,
William Nylander
, and
Nazem Kadri
.
Although he's still producing at a more than fine rate, if you're sitting in the Leafs front office and you have a scenario where a guy with a $4.25-million cap hit is earmarked for third-line duty, you have to wonder if a trade isn't the best option for your team as it continues to build around the cornerstones of the franchise.
The key thing for the Leafs here is that van Riemsdyk is still playing good hockey these days, and his trade value might not ever be higher. As a rate scorer, his 2.6 points-per-60 minutes at 5-on-5 is 15th best in the league, sandwiched between super-scorers like
Brad Marchand
and
Vladimir Tarasenko
. He's still generating bundles of shots, too, and his 5-on-5 Corsi% numbers (52.3 per cent) are well on the positive side. More than anything, he's given the Leafs some very productive depth and alleviated a lot of the burden from the shoulders of
Auston Matthews
and company.
That's what makes his name as a trade candidate so intriguing. Would a potential playoff team consider moving a key performer? Maybe, maybe not. But so long as he keeps sitting toward the bottom of the 12-forward lineup in terms of ice time, and so long as his contract remains set to expire at the end of next season, van Riemsdyk's name will continue to float as an intriguing trade piece for teams with real Stanley Cup aspirations.